A bodybuilder ministers to children and families at a Sand Springs church.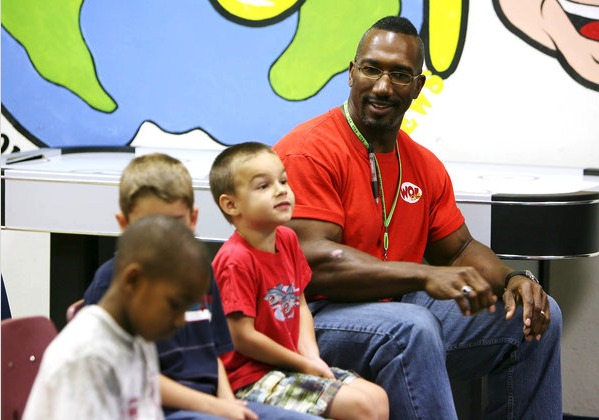 SAND SPRINGS — The new children's minister at Word of Life Church once shared a football conference title with Barry Sanders.
He also was mentioned as a possible Heisman candidate, was a contestant on "American Gladiator," and this spring was named Mr. Natural Oklahoma, winner of a statewide bodybuilding contest for competitors who don't use steroids.
"I guess you could say I have a strange calling," said Smiley Elmore Jr., who moved to Tulsa as a baby when his father played football for the University of Tulsa. "It's a calling for me to minister to children and often to their parents.
"But I'm still a bodybuilder, and my other goal is to help people realize their physical potential through proper eating and exercise."
Some church people have criticized Elmore for being a bodybuilder, he said, but "God's given me a gift, and I'm using it to show others that, through Christ, we can do all things. It's great to take Christ to such a dark and twisted industry."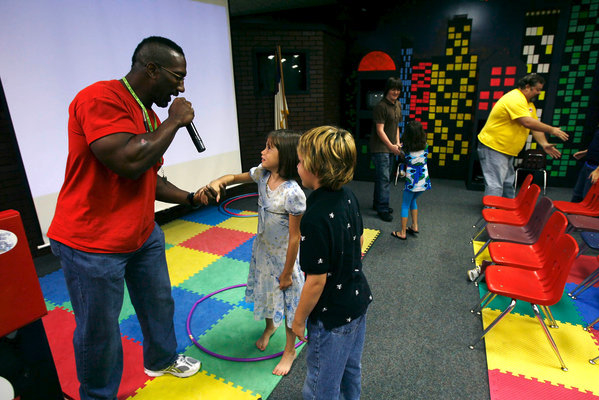 at, 41, returned to Tulsa in January to take the position at Word of Life, which is a few miles west of the neighborhood where he grew up and where his parents still live.
He oversees the spiritual development of children from birth through fifth grade at the church and conducts services at 9 and 11 a.m. each Sunday for about 85 to 100 children, assisted by a volunteer staff of 30 adults and 10 teenagers.
His favorite part of the ministry is "seeing how kids really transform in front of your eyes," he said.
"They're sponges. They want to learn and be challenged. It's awesome to prepare the next generation of lawyers, teachers and ministers.
"I love to see kids grow more passionate for Jesus Christ and become world changers," he said.
Elmore doesn't see the position as a stepping stone to adult ministry.
"This is a full-time ministry to the children and to their whole family," he said.
Elmore's road to the ministry was rocky.
He was a standout football and baseball player at Bishop Kelley High School, graduating in 1986.
He played three years of football at the University of Missouri and once shared Big 8 Player of the Week honors with Oklahoma State University's Barry Sanders.
Elmore received a bachelor's degree in business and a master's degree in public administration at Missouri and, much later, received a doctorate in Christian education from Jacksonville Theological Seminary in Florida.
In college, he drifted from the faith of his youth.
After graduation, Elmore spent years trying to carve out an NFL career, thwarted by a knee injury he suffered in college.
He played arena football in Dallas and San Antonio.
In 1993, he married Angela Walker, a nurse, and they moved to Atlanta to be near his agent. He worked as a fitness trainer and won numerous bodybuilding contests.
Angry at God for giving him athletic talent he could not use fully, Elmore said he entered a period of depression.
At his lowest point, huddled in a dark closet with a knife in his hand, thinking about suicide, he heard the voice of his mother encouraging him to come back to God.
"Mom knew I was struggling," he said.
At that point, when he was 26 years old, he "got serious about Christ," he said.